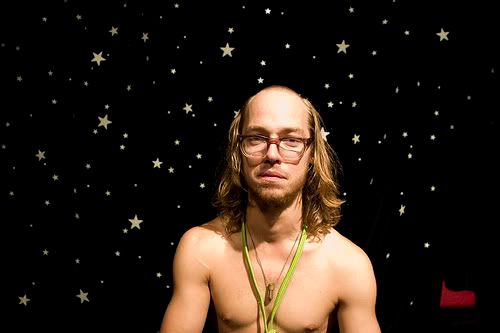 There is no one quite like Toecutter. And that's why we love him so much. He's been on the map for almost ten years of mayhem, from his early days in the System Corrupt soundsystem and involvement in the Lanfanchies movement, continuing his winning streak all over the world with tours in the U.S.A., Europe, Japan,... and other various glory-holes. But what is he up to these days?! Have you noticed him NOT hanging out that much downtown?! What are his current motives and strategies to fight it all, and when does that awesome "Best Party Ever" release finally drop?! You are about to find out the truth about David Harris, Australia's finest playmaker by a long shot!
PLAYMAKER - How life been since you left the big city?
TOECUTTER - I have moved out of Sydney to the Hunter Valley which is a couple of hours drive to the North West, if you follow the range of the Blue Mountains north, we are at the bottom of a huge national park. Every day we see a mob of Eastern Grey kangaroos who live across the valley from us in a grove of eucalypts. We spend our time working on the
yurt
we built over December and January, exersizing, repairing our shoes, making clothes, and we are going to build a skateboard miniramp in my cousin's shed for her kids. We've got a motorbike and a utility truck with a flatbed, a trailer and a kit of tools for building everything we need. We also have a treadle (foot-powered) sewing machine. There's always things to do, like chopping firewood, or cooking, or reading - we have a pretty great little collection of books on bushcraft and stuff. Plus I like to get as close to the 'roos as they will let me.
PM - What can we expect of Toecutter in the future?
TC - I've got a host of releases coming up, I have been working on a
Deathchant
E.P. for about year which is nearly finished. My Best Party Ever 12" is going to be released on
BangGang
in a month or two, and I have an album which should be released on
Dual Plover
in the Spring. I am going to hit my studio in Lilyfield, which is near the city through winter, and hopefully draw all these projects to completion.
PM - If you could collaborate with anyone, past, present or future, who would it be?
TC - One of my all-time dreams has already come true,
Electromeca
! He sent me a package of loops back in 2005 which I have only scratched the surface on! There will probably be more from that in the future. I have done split releases with a number of artists, but it's pretty difficult to truely collaborate for me, as the way I make music doesn't really make it easy for me to share in the creative process - it's not like Jamming! Though my new album will feature quite a few collaborations, one with some of the members of
Say Cheese and Die
! who are a defunct Sydney punk band. I hope anyone checking out my new album will see some of the directions and collaborations!
PM - Who are your musical influences?
TC - The first band I heard which made me think I could make music was
Culturcide
from Texas with their album Tacky Souvenirs of Pre-Revolutionary America. At the time, I was really into
DHR Recordings
, especially
Shizuo
,
Bomb 20
and
Patric Catani
. Since then I have been really into
Spike Jones
, which I came across in 2004 when touring with
Sickboy
and
Shitmat
. It's like 1940's breakcore! No joke! I have so many other influences, but I am listening to a lot of folk music at the moment, and I love
RawGash
from Ireland!
PM - Tell us about the first ever Toecutter show...
TC - My first "live" show was at the
Breakcore Gives Me Wood
in Ghent or nearby. Squat party which ended up getting shut down, but what a party! I played off one CD player and my new Boss SP303 sampler, which I just jammed samples over the top of the CD. I had sampled a heap of riffs from
The Kill
, a great Melbourne grind band, which gave the show a bit of a metal/punk bent to off-set the
plunderphonics
angle. I just remember there was a knot of people screaming "Toecutter!!!" for about 40 minutes right at the front, and moshing along to whatever I played. I was very happy to have some very new music to play them, as well as all the "hits" from Real Sexual People!
PM - What movies have inspired you?!
TC - My father was a big film buff, he worked for
Variety!
in Sydney, so I kind of grew up on the classics, 1940's Hollywood musicals, all
The Marx Brother's
Films, Robin Hood who I used to dress up as. But Apocalypse Now was the first film that really penetrated my psyche. Then Taxi Driver, I must have watched about 40 times since I left school. Since then there have been a lot, Akira, Funny Games, Lost Highway, Life is Cheap but Toilet Paper is Expensive, the work of
Bruce Bickford
,
Norman McLaren
from the
National Film Board of Canada
, Children of Men, Razorback, I could go on... but a quick plug for myself - you should check out my own stop motion animation. La Maison Des Cochons - you can easily find it up on YouTube! I made that in 6 months in 1997 at the RMIT Animation course in Melbourne, Victoria.
PM*** it's right here yeh yeh!***
PM - Did you play or wanted to play in bands growing up?
TC - I did! I was in the school orchestra for a while playing the keyboard. It fucking sucked. I was more into
Nirvana
and
Public Enemy
and the
Dead Kennedys
. There was not really any room for a keyboard in my idea of music, and I was put off the guitar I think by the phallic implications.
PM - What is the most challenging thing you've done so far?
TC - The decision that I no longer wanted to live in the city. I have left behind a lot of things that I love - mostly people. And I have soft spots for some facets of culture, but by and large, I love to be outside, and independent of the city. It is kind of a big deal to me to know where my food and water is coming from and to not rely on the structures of power to provide for me.
PLAYMAKER THANKS TOECUTTER FOR THIS INTERVIEW !!!!
.
..And if that ain't enough, we've got an exclusive new Toecutter tune! Check it Check it, shit's red-hot!!!

DOWNLOAD >>> Toecutter - Ocsidised (demo)

Find out / contact Toecutter here