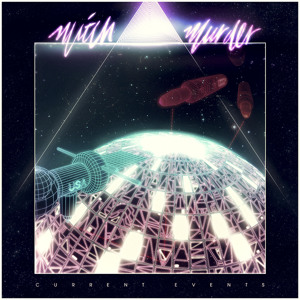 This is one of THE ALBUMS OF 2011 for the Playmaker Group. Yes. Honestly and truthfully, a truly beautiful piece of work we are almost out of words. It is the highly exceeding sophomore album from
Mitch Murder
called 'Current Events' on
Rosso Corsa
, which is almost outshining the already amazing first album he did.
This one is so soft. So heartfelt. Pure love stroking you like a gentle breeze of air, a touch of breath, a gently wind caressing your body. Yep. Mostly just nice and slow jams...
But that is not the only thing. There is certain aggression in the album as well, some faster paced songs. Still they never take away any of the warmth and care of it's total package. Obviously influenced by the likes of soundtrack maestros like
Vince DiCola
and such, the new album presents itself as a true program of timeless music scoring like media flashes of dreamscape music.
'Current Events' has a red thread of voice samples from news flashes, aerobics, commercials, games, sport reports and the
Rosso Corsa
trademark of fast sports cars and race sounds. This "soundtrack", this "score", or simply, this music album is an exceeding, contemporary vision of a certain era that hasn't been forgotten by a long shot.
We highlight one of the most outstanding, heartfelt songs on 'Current Events' called Telefuture Theme.
The album is available here on iTunes
.
Mitch Murder - Telefuture Theme by PLAYMAKER